Overview
Gastroesophageal reflux/Meaning of gastroesophageal reflux disease
A discomfort that is caused by stomach acid that flows from your stomach to your mouth is called Gastroesophageal reflux disease (GERD).
This problem occurs occasionally. GERD can be manageable and can also require medical attention at times.
The symptoms of GERD/Acid reflux Symptoms
Heartburn as a symptom
Heartburn is the most common sign of GERD/acid reflux. A burning sensation in your chest (heartburn

), usually after eating, which might be worse at night. 
Some of the other symptoms of GERD/ acid reflux include;
Chest pain
Difficulty in swallowing
Regurgitation of food or sour liquid
A sensation of a lump in your throat
If you have nighttime acid reflux, you might also experience:
Chronic cough
Laryngitis
New or worsening asthma
Disrupted sleep
-If you experience the following signs consult a doctor; chest pain,  shortness of breath, and jaw pain, which might be symptoms of a heart attack.
Also seek medical advice if you:
Experience severe or frequent GERD symptoms
Take over-the-counter medications for heartburn more than twice a week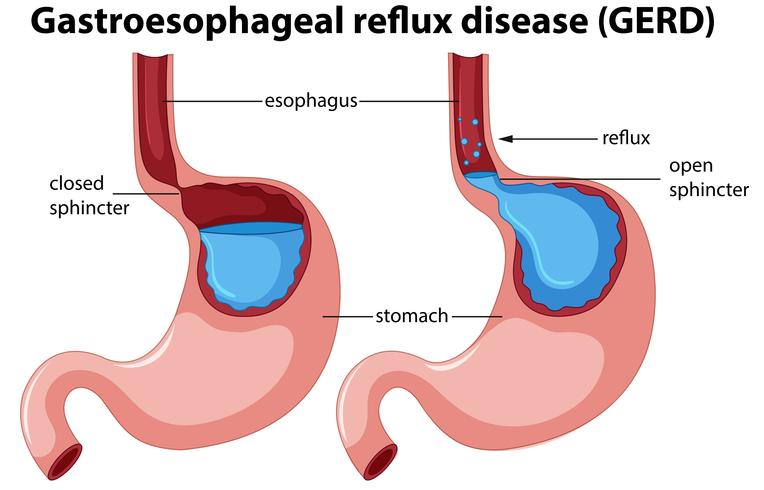 GERD/Acid reflux causes
GERD is caused by frequent acid reflux.
If the esophagus sphincter behaves unusual or weakens the stomach acid flows back to the esophagus which causes GERD.
Risk factors
Conditions that can increase your risk of GERD include:
Obesity
Bulging of the top of the stomach up into the diaphragm (hiatal hernia)
Pregnancy
Connective tissue disorders, such as scleroderma
Delayed stomach emptying
Factors that can aggravate acid reflux include:
Smoking
Eating large meals or eating late at night
Eating certain foods (triggers) such as fatty or fried foods
Drinking certain beverages, such as alcohol or coffee
Taking certain medications, such as aspirin
Complications
Chronic inflammation in your esophagus can cause the following;
Narrowing of the esophagus (esophageal stricture). Destruction of the lower esophagus from stomach acid causes scar tissue to form. The scar tissue narrows the food pathway, which causes a swallowing problem.
An open sore in the esophagus (esophageal ulcer). Stomach acid can lead to ulcers due to wearing away of the esophagus tissue.
Precancerous changes to the esophagus (Barrett's esophagus). The risk of getting cancer becomes higher due to the damage from acid causing changes in the tissue lining the lower esophagus.
Infant reflux occurs when food backs up (refluxes) from a baby's stomach, causing the baby to spit up, the condition is rare to grown-up babies. It's unusual for infant reflux to continue after age 18 months.
Acid reflux causes
certain food and drink i.e, coffee, alcohol, chocolate, and fatty or spicy foods.
being overweight.
smoking.
pregnancy.
stress and anxiety.
some medicines, such as anti-inflammatory painkillers (like ibuprofen)
a hiatus hernia – when part of your stomach moves up into your chest.
Acid Reflux treatment/Medicine acid reflux/Cures acid reflux
Antacids that neutralize stomach acid. Antacids, such as Mylanta, Rolaids, and Tums, may provide quick relief.
Medications to reduce acid production.
Medications that block acid production and heal the esophagus.
GERD / Acidity reflux remedies
 Eat sparingly and slowly. When the stomach is very full, there can be more

reflux

into the esophagus.

Avoid certain foods.
Don't drink carbonated beverages.
Stay up after eating.
Don't move too fast.
Sleep on an incline.
Lose weight if it's advised.
If you smoke, quit.
Acidity reflux diet
1.Vegetables
Vegetables are naturally low in fat and sugar, and they help reduce stomach acid.
2. Ginger
Ginger has natural anti-inflammatory properties, and it's a natural treatment for heartburn and other gastrointestinal problems.
3. Oatmeal
A diet high in fiber reduces the risk of acid reflux. Other fiber options include whole-grain bread and whole-grain rice.
4. Noncitrus fruits
Noncitrus fruits, including melons, bananas, apples, and pears, are less likely to trigger reflux symptoms than acidic fruits.
5. Lean meats and seafood
Lean meats, such as chicken, turkey, fish, and seafood, are low-fat and reduce symptoms of acid reflux. Try them grilled, broiled, baked, or poached.
6. Egg whites
Egg whites are a good option. Stay away from egg yolks, though, which are high in fat and may trigger reflux symptoms.
7. Healthy fats
Sources of healthy fats include avocados, walnuts, flaxseed, olive oil, sesame oil, and sunflower oil. Reduce your intake of saturated fats and trans fats and replace them with these healthier unsaturated fats.